Quantum® Gold
Take control of your business and run it the way you want. With Quantum® Gold controls it's easy to customize your laundry operation to meet your needs.
18 total cycles
2 cycle modifier options
Flexible pricing & additional revenue opportunities with customizable cycle modifiers, time-of-day pricing and lucky cycle options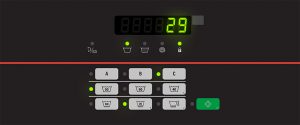 E-Mech
The E-Mech control features a straightforward design that offers customers simple water temperature and fabric selections, using cue lights to monitor progress through the wash cycle. This control is designed to function with any coin slide manufacturer's equipment.